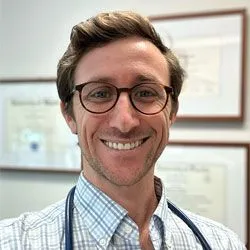 Dr. Adam Rosen was born and raised in Miami, and has a deep connection to the local community and a strong commitment to improving the health and well-being of its residents.
Dr. Rosen obtained his medical degree from the University of Miami School of Medicine, where he excelled academically and demonstrated a passion for delivering high-quality healthcare. Following medical school, he pursued his residency in internal medicine at the University of Miami Hospital, Jackson Memorial Hospital and the Bruce W. Carter VA.
With a firm belief in the importance of staying abreast of the latest advancements in the field of internal medicine, Dr. Rosen actively engages in continued professional development. He attends conferences and workshops, reads the latest medical literature, and participates in medical societies to ensure he is up-to-date with the most current evidence-based practices. By integrating the latest research and medical advancements into his practice, Dr. Adam Rosen strives to deliver the highest standard of care to his patients.
When Dr. Rosen is not in the office, he enjoys spending time with his family, exercising, woodworking, watching Miami Heat games and exploring the Miami culinary scene.